Cafeteria food features regional flavors
More colleges are offering menus made from local foods.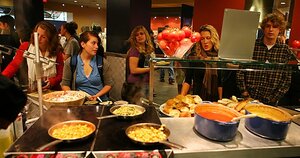 Melanie Stetson Freeman/Staff
Often, when college students linger over meals to chat about a social-justice movement, they hash out ways they can make a greater impact.
But last month, students at Emmanuel College in Boston were discussing how to lessen their impact – a goal the school applauds – since the "lesser impact" amounts to decreased carbon emissions, pesticides, and the distance food travels from a farm to the school cafeteria.
It's a message that resonates throughout the campus, where sustainable agriculture fits in with school efforts to promote solidarity, and where the Bon Appetit Management Co., which provides food services to the school, ensures that 20 percent of each meal is composed of local foods.
But to really highlight the importance of local eating, Bon Appetit, which operates some 400 cafes and restaurants around the country, hosted a nationwide "eat local challenge" on Sept. 30, where everything on the menu came from farmers or producers located within 150 miles of each cafe's kitchen.
Emmanuel's event, from the Gloucester sea scallops down to baked potato soup made from Massachusetts spuds, provided a forum for students to taste the local bounty and discuss why they think local eating is important: It supports local farmers. The schoolwide effort – endorsed by administrators and kitchen staff alike – is just one of a growing number of local eating programs popping up on campuses nationwide.
"They are the future, and I hope they hear it here and tell someone about it," says Kelly McDonald, general manager for Bon Appetit's Emmanuel cafes. "They'll graduate college and go out in the world, and, hopefully, think, 'Oh I should buy from this local farmer, or help him or her out.' "
---