Campuses find going green can be tough
Some 580 colleges have vowed to cut their greenhouse-gas impact to zero. Many missed the first deadline.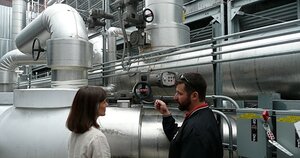 Stacy Teicher Khadaroo
Set up recycling bins? Check. Change the light bulbs? Check.
Go carbon neutral? That one's not so easy. But with 587 presidents having pledged their colleges and universities to reduce their greenhouse-gas impact to zero, lessons are beginning to emerge about what it will really take to get there – on campus and beyond.
Campuses account for a small portion of the United States' greenhouse-gas emissions – less than 5 percent by some estimates. But many see themselves as well positioned to promote environmental sustainability – as centers of innovation, models of social responsibility, and educators of future workers and decisionmakers.
"Climate planning is an emerging field, and … the plans [colleges] come up with will be helpful to folks in other sectors learning to do this for the first time," says Julian Dautremont-Smith, associate director of the Association for the Advancement of Sustainability in Higher Education (AASHE). Based in Lexington, Ky., it's one of the groups overseeing the American College & University Presidents Climate Commitment, which requires signers to report publicly on their progress.
Before a campus can map its way to zero, it has to understand the details of its carbon footprint, a sometimes tedious data-crunching task that's proving more challenging than many anticipated. Greenhouse-gas inventories from the original 391 signers were due Sept. 15. So far, 190 have been submitted; another 98 schools had asked for extensions, some because of budget and hiring freezes and others because they didn't plan well enough to complete the inventories on time, Mr. Dautremont-Smith says.
But he adds that he's not discouraged by the missed deadlines, given the sweeping, multi-decade nature of the commitment.
---