How to spur action on climate change
Behaviorists weigh in on how to motivate change. A green-themed soap opera, perhaps?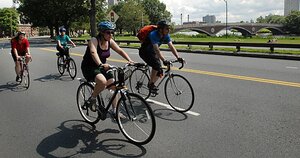 Mary Knox Merrill / The Christian Science Monitor
Not-so-great news about the planet arrived apace in October. The US government released its Arctic Report Card for 2008. The compilation of observations by 46 scientists from 10 nations concluded that arctic temperatures were 9 degrees F. higher this fall than normal. (Last year was the warmest ever recorded in the Arctic.) Shrubs are colonizing what was once permafrost. Snow geese are expanding their range northward. Receding sea ice – this year's loss was second only to last year's record melt – may be hurting animals like walruses and polar bears that rely on it.
Many see the news as evidence of an ongoing environmental disaster. But while "green" has become an all-too-common prefix, meaningful action is scarce. Has the environmental movement failed to win hearts and minds?
Now behavioral scientists are joining environmentalists to address the problem of climate change and human attitudes toward it. Maybe it's time, they say, to refocus the global-warming debate on solutions rather than causes, to design more "opt out" conservation programs, and maybe to promote a soap opera or two with a green theme.
Later this month, the second annual Behavior, Energy, and Climate Change Conference will convene in Sac­ra­­mento, Calif.
"We have a pretty serious challenge ahead of us," says Linda Schuck, conference chair and an adviser in the office of the president of the University of California in Oakland. "We need to use all the tools that we have available."
---