Recycled building materials trim waste and are cheaper, too
Centers for salvaged and donated building material sprout nationwide.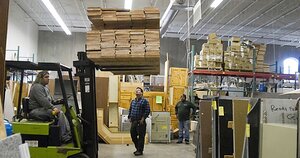 Sarah Beth Glicksteen / The Christian Science Monitor
One of the world's finest repositories of junk sits just off Route 55 in Minneapolis, about two miles south of the city's new baseball stadium, Target Field. Here, in a cavernous warehouse, used toilets jostle for space with worn aluminum siding, and doors and cabinets reach in teetering stacks toward the ceiling.
On a rainy morning recently, Jamie Heipel weaves expertly between sheets of particleboard, pointing out, as he walks, the prices on each item. "This one is $50," he says, resting his hand on a mint-condition dresser. "Much less than half of what you'd pay at Home Depot. In most cases, the stuff goes for about 50 cents on the dollar. Sometimes 40. Sometimes less. And we can't keep it in stock."
Mr. Heipel, a stocky former corporate businessman, is the executive director of a local environmental nonprofit called the Green Institute, and the de-facto head of its Re-Use Center initiative. Since 1995, the Center has been salvaging discarded building supplies and selling them at a deep discount from this warehouse. (In March, the Green Institute launched a second storefront in nearby Maplewood.)
Now Heipel is watching foot traffic soar – a direct result, he speculates, of the dismal global economy and a heightened eco-awareness on the part of consumers. "It's helped our business tremendously," Heipel says. "People are less likely to invest in a new house. They want to stay put, and they want their home to look good. And the people who are donating, they want to feel like they're contributing to the community."
---