Getting there: How can I figure out the greenest way to go?
Driving generates fewer greenhouse-gas emissions than flying, but fuel cost is a factor.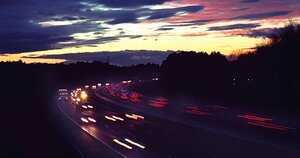 John Nordell/The Christian Science Monitor/File
Q: How can I determine if it is more ecofriendly to fly or drive somewhere?
– Christine Matthews, Washington, D.C.
A: Most experts agree that driving in a relatively fuel-efficient car (25 to 30 miles per gallon) usually generates fewer greenhouse-gas emissions per person per mile than flying does – and it only gets better when you carpool.
In assessing the global-warming impact of a trip from Philadelphia to Boston (about 300 miles), the environmental news website Grist.org calculates that driving would generate some 230 pounds of carbon dioxide (CO2) – the leading greenhouse gas – per typical medium-sized car, regardless of the number of passengers. Flying on a commercial jet, however, would produce some 400 pounds of CO2 per passenger.
What this also means, of course, is that while even driving alone is slightly better from the standpoint of greenhouse-gas emissions, carpooling makes environmental sense. Four people sharing a car collectively would generate 230 pounds of CO2, while the same four people taking up four seats on a plane would generate some 1,600 pounds.
Journalist Pablo Päster of Salon.com extends the comparison further to a cross-country trip, and comes to similar conclusions. (Differences in the math are attributable to the use of varying assumptions regarding fuel usage and source equations.) His conclusion: Flying from San Francisco to Boston, for example, would generate nearly 1-1/2 tons (2,900 pounds) of greenhouse gases per passenger, while driving would account for one ton per vehicle. Sharing the drive with one or more people would lower each individual's carbon footprint accordingly.
---