Jungle diary: I set out in search of Papua's cannibals.
Where is it, why do you want to go there, and why couldn't I have had normal children, my mother asks.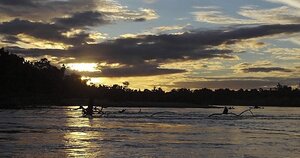 Danna Harman
Part 1 of a four-part series.  Part 2 | Part 3 | Part 4
Why Papua? My mom asks me. And where is it, anyway? I have no immediate answers. But a week later I have not only found it on a map and purchased all forms of cool camping paraphernalia (think quick-dry towels and waterproof socks) but also come up with a philosophy to explain the importance of voyaging across the world to this tropical land. My mom closes her eyes, raises her eyebrows, and wishes she had normal children.
The sparsely populated island of New Guinea, the second-largest island in the world after Greenland, is divided between two countries: the independent nation of Papua New Guinea in the east, and the Indonesian Papua in the west – formally known as Irian Jaya. More than 75 percent of Papua is covered by impenetrable jungle, and is home to a wide diversity of plant and animal life, as well as an array of indigenous, so-called "primitive" tribes – many of whom have little or no contact with the world outside.
Believed to number some 3,000 to 4,000 people, the Korowai of southeastern Papua are one such tribe. They were "discovered" in the 1970s but remain isolated. They hunt with bows and arrows, subsist for weeks on roots and beetle larvae, are illiterate, and don't wear clothing. They practice polygamy, believe in witchcraft, and live in scattered treehouses some 25 feet off the ground. They are also thought to be among the last people in the world to practice cannibalism.
---