Jungle diary, Part 2: Who knew there were so many kinds of mosquito in Papua?
Also thousands of beautiful orchids, exotic birds, and trees – and a leech in my sock.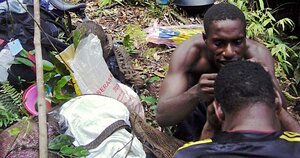 Danna Harman
The jungle, southeastern Papua, Indonesia
This is Part 2 of a four-part series. Part 1 | Part 3 | Part 4 
It's the second day of bushwhacking through the jungle. I am perched on a rock, covered in mud, pulling a leech out of my sock. Adam is being devoured by giant biting flies. And Lakor, our cook, is hovering over guide Isak's head trying to dislodge a cluster of thorns with a razor blade. I wonder, and not for the first time, what I am doing here.
The jungle is beautiful – filled with mangroves, sago palms, breadfruit trees, and thousands of different species of orchids. The thick insect life, upon which I mostly will harp from here on out, is astonishing. Papua is home to some 800 species of spiders, 30,000 kinds of beetles, and who knows how many sorts of mosquitoes. This is a place of frogs, bowerbirds, cockatoos, and parrots, where 120-pound flightless birds called cassowaries are king and wild pigs roam free.
It's a forest so dense that you feel completely alone if separated from the others by more than 20 feet. Sound, too, is swallowed here. "Waaa!" I call out when I feel I'm lost. "Waahaa!" call back Lucas or Titus, who inevitably will be standing at just the other end of the nearest log. It's humbling.
In this wild nature, I have become totally dependent on "the guys," as Adam and I have christened the porters. They spend the days nimbly racing ahead – barefoot – carrying all of our camping and cooking gear. Gershon, on one leg, is a veritable human GPS system, making a sharp left at this tree, a right at this orchid, a U-turn at that shrub.
They wait for me to laugh at myself before allowing themselves to do so, even though my stumbles are comedic – getting entangled on a vine here, stuck in brambles there. Lakor and Gershon have taken to anticipating my every wobble, and take turns putting out a steadying arm for me, their timing only bested by their gentleness.
---