EarthTalk: Cloth or disposable? The diaper debate is back.
A new generation of ecoaware parents are rethinking diaper choices for their children. A few new products make it easier.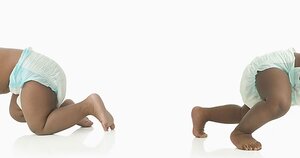 NEWSCOM
Q: My husband and I are expecting a child, and we're concerned about the environmental impacts of disposable diapers. I remember the old cloth diapers with pins that my mom used. Are there any new developments in the cloth-diapering field?
– Stephanie, via e-mail
A: A growing number of green-minded parents see the health and ecological benefits of reusable cloth diapers over disposables. Most disposables are made from petroleum-derived plastic and wood fiber: Some 250,000 trees are cut annually to make America's disposable diapers.
According to The Green Guide, 95 percent of US families who use diapers use disposable ones – up to 8,000 per child. As a result, 3.5 million tons of used diapers are put in landfills each year. Accompanying these diapers is untreated fecal matter and urine that can easily contaminate groundwater. Any pathogens in this waste can be spread far and wide by insects and animals.
An additional concern used to be the production of the chemical dioxin during the bleaching process. Dioxin posed a risk to factory workers and the environment surrounding manufacturing facilities. Traces of the chemical, which scientists say is a carcinogen, were also present in the diapers. New bleaching methods claim to reduce dioxin production to undetectable levels.
For many, though, the bottom line is convenience – particularly given memories of hard-to-fasten, stinky cloth diapers collecting in a pail. But heightened ecoawareness in recent years has led to a profusion of reusable diaper choices, and consumers are taking another look.
---