Under Obama's energy plan, cars would be cleaner but costlier
The president called for tougher fuel-efficiency standards Monday and may let states regulate vehicle emissions of greenhouse gases.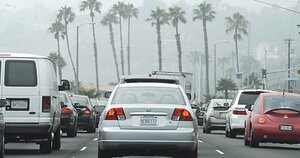 Kevork Djansezian/AP/FILE
President Obama's first big push for US energy independence – centered on tougher fuel-efficiency standards – is likely to impose new costs on an already reeling auto industry, consumers, and probably taxpayers.
But his moves on Monday, which come amid a growing consensus that America needs to radically revamp the way it uses energy, may have an upside, too. For one, they may help Detroit drive faster down an inevitable road toward efficiency. The resulting retooling of factories, too, may have some stimulative effect on a struggling economy.
But the moves will also take an economic toll, analysts say, as consumers face higher prices for cars and as taxpayers may be asked to spend additional dollars to transform an ailing but important US industry.
Mr. Obama called for prompt implementation of federal fuel-economy standards enacted under President Bush, so that improvements kick in with the 2011 model year. Carmaker fleets are slated to rise to an average fuel economy of 35 miles per gallon by 2020. [Editor's note: The original version contained an unclear statement regarding President Obama's position on federal fuel-economy standards. The story has been corrected to more accurately reflect his position.]
In an important reversal of Bush administration policy, he also said his administration will reconsider a waiver request by California and 13 other states to set their own standards on emissions – including greenhouse gases.
---