Wetland vies for Colorado River's water
Conservation land in Mexico and a desalting plant in Arizona are at the center of a debate over the river.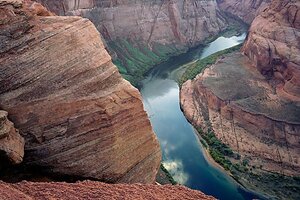 NEWSCOM
On the Colorado River Delta, some 250 miles west southwest of Tucson as the crow flies, sits Cienega de Santa Clara.
It's a 63-square-mile patch of wetland – a key stop for migrating birds along an arid stretch of the Pacific flyway. It's the largest remaining wetland on the Colorado River Delta and part of an internationally recognized conservation area.
It also sits squarely in the center of a debate over a multimillion-dollar water desalting plant just west of Yuma, Ariz., which is slated for a trial run later this year. Salty wastewater from the plant would flow down a drainage system that currently feeds Cienega de Santa Clara, essentially dooming the wetland, environmentalists say.
Proponents of the trial argue that the freshwater the plant would provide is sorely needed for the region's cities and farms.
The debate highlights the challenge of slaking the thirst of a growing population that draws on the already-oversubscribed Colorado River, while protecting the region's ecological gems. The challenge is expected to grow more acute if global warming dries out the region further, as many climate models project.
If, however, other sources of water for the wetlands can be found, particularly if the water comes from sources on both sides of the US-Mexican border, it would represent "a tremendous breakthrough," says Karl Flessa, a paleobiologist at the University of Arizona who studies the river's historical ecosystems.
---