Microfinance can mean a lot to the environment
Earthtalk: Little payments can jump-start a business and lead to greener communities.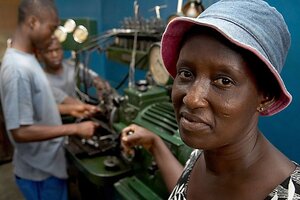 NEWSCOM
Q: What is "microfinance," and how does it help poor countries and preserve the environment?
– Eliza Clark, Seattle
A: The brainchild of Grameen Foun­dation founder Muhammad Yunus, microfinance is a form of banking whereby financial institutions offer small loans to the poor. The idea behind the concept, which originated in Bangladesh in the mid-1970s, is that motivated and disciplined poor people could climb out of poverty if they had access to funding – even small amounts – that help get businesses off the ground. With access to revolving loan funds, these "micro-entrepreneurs" can build businesses, pay back the loan, and continue to provide for themselves and their families in a sustainable way.
A classic example would be a woman who borrows $50 to buy chickens so she can sell eggs. As her chickens multiply, she sells more eggs, and, later, chicks as well. As she climbs out of a perhaps desperate situation, she repays the money. The community, meanwhile, benefits from having a new source of nutritious food.
"Having access to money to start a small business isn't about fulfilling a dream, it's literally about keeping their families one step ahead of starvation and putting a roof over their heads," says Tracey Turner, founder of MicroPlace, an online "microfinance marketplace" launched by eBay in 2007. Individuals can put small or large amounts of money on MicroPlace and get a rate of return in the 2- to 3-percent range – better than a donation – and gain the satisfaction of knowing that their cash is helping someone in a developing country improve his or her lot and that of a poor community.
---