Jack Bauer tackles global warming
Fox's action-packed series '24' is the first TV show to reach carbon neutral.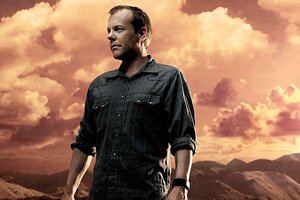 Anthony Mandler/FOX/FILE
Fox's political action thriller "24" has long pushed the boundaries of prime-time television with its graphic depictions of violence and torture. Now, the series, in its seventh season, is breaking ground in what may seem an unlikely frontier. Earlier this month, show producers announced that it is the first television program to become "carbon neutral."
The show reduced its overall carbon emissions to zero through a combination of "better practices," and the purchase of carbon offsets. " '24' was a tough choice to start with because of the difficulty in measuring the high number and different types of emissions," says executive producer Howard Gordon. "But it's been enormously gratifying because it's a relatively high- profile show and can influence other shows."
The impulse grew from a corporate retreat in 2006, at which former Vice President Al Gore addressed the group on his passion project, global warming. Subsequently, Rupert Murdoch, chairman of parent company News Corp., announced his intention to take the entire company carbon neutral by the year 2010.
"We set a modest goal of one episode of '24,' " says Gary Newman, chairman of 20th Century Fox Television. "But the entire cast and crew embraced it and we succeeded far beyond our expectations."
---