Compressed natural gas clears the air in Bangladesh
Cleaner-burning fuel is reducing dangerous levels of pollution – and saving money, too.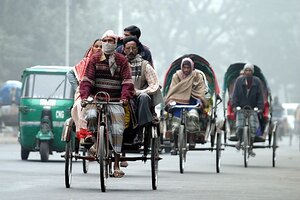 Rafiqur Rahman/REUTERS/FILE
Muhammad Mokles plies the busy Dhaka streets in his green-painted auto-rickshaw. But when it's time to refuel, he skips the traditional gas pump and goes straight to a compressed natural gas (CNG) station. It's not only much cheaper than gasoline but it's also much better for the environment.
Here in Bangladesh's capital, the streets overflow with thousands of noisy honking vehicles, pedestrians, beggar children, food vendors, and stray animals. Millions of people need to move around this crowded and sprawling metropolis of 11 million each day, and many do so in an auto-rickshaw that can dart around larger or slower forms of transport.
Auto-rickshaws are cheap, convenient, and in use all over Asia. Up until recently, the ones here in Bangladesh all were powered by two-stroke gasoline engines; (also found in many motorcycles and larger three-wheelers), which alone were responsible for 60 percent of all vehicle-related pollution here, according to the Asian Development Bank.
That's because two-stroke engines don't use gasoline efficiently. Up to 40 percent of the fuel emerges from the tailpipe unburned, as smoke and soot. Burning gasoline and diesel produces carbon dioxide, carbon monoxide, sulfur dioxide, nitrogen oxides, hydrocarbons, and soot that warm the climate, threaten human health, and pollute water, air, and soil. In Bangladesh, soot levels in 1997 were found to be 10 times higher than World Health Organization guidelines permit. This resulted in an additional 15,000 deaths and millions more illnesses, according to World Bank estimates.
---