New York considers landmark environmental code
Proposed legislation could reduce the city's total carbon output by 5 percent.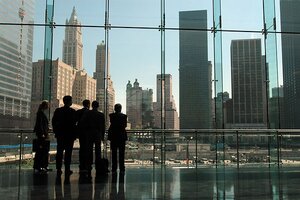 Andy Nelson/The Christian Science Monitor/file
The Big Apple wants its skyscrapers to turn greener.
That's greener in terms of the environment, not in terms of money.
On a grassy rooftop in midtown Manhattan, Mayor Michael Bloomberg announced Wednesday – Earth Day – that the city will try to pass legislation mandating environmental changes that could reduce the city's total carbon output by 5 percent. The proposed legislation is aimed at getting significant-sized buildings to meet tougher energy requirements anytime they renovate, to conduct an energy audit every 10 years, and to make energy improvements that will pay for themselves within five years. According to the city, the energy improvements could save landlords $750 million a year – assuming they upgrade everything from their lighting systems to boilers.
New York's effort comes at a time when Congress is considering legislation to cap carbon emissions and then allow emitters to trade in carbon credits or allowances. The proposal, which had its first day of hearings on Wednesday, is considered to be President Obama's second greatest legislative priority after healthcare reform.
On Wednesday, Mr. Obama, visiting a wind-power plant in Newton, Iowa, called on America to view a green emphasis as a way to lead the global economy in the 21st century.
---
Subscribe to Recharge
Get the Monitor stories you care about delivered to your inbox.