Earth Talk: Why are US rail options limited compared with Europe?
The US has the lowest rate of intercity rail usage, but Congress is taking steps to change this.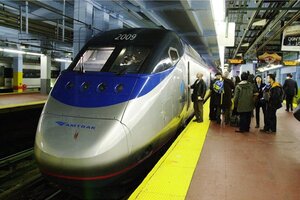 ZUMA PRESS/NEWSCOM/FILE
Q: If train travel is so much less polluting than driving or flying, why are passenger rail options in the US so limited compared with Europe? And is anything being done to shift more travelers over to American rail lines from cars and planes?
– Jeffrey Orenstein, Bradenton, Fla.
A: It's true that train travel is one of the lowest impact ways to get from point to point short of walking, jogging, or bicycling. In the early part of the 20th century, taking the train was really the only practical way for Americans to get from city to city. By 1929 the US boasted one of the largest and most used rail networks in the world.
The closing of rail lines and the improvement of highways, including development of the Interstate highway system, combined to shift Americans' tastes away from rail travel and toward cars. As a result, while Europe focused on building rail networks, the US became the ultimate auto nation: By 1965 only 10,000 rail passenger cars were in operation across just 75,000 miles of track.
In response to the declining use of America's rail network, the government created Amtrak in 1971 to provide intercity passenger train service, running mostly on preexisting track. Today Amtrak runs some 1,500 rail passenger cars on 21,000 miles of track connecting 500 destinations in 46 states. In 2008, more than 28 million passengers rode Amtrak trains, representing the sixth straight year of record ridership. Despite this, the US still has one of the lowest rates of intercity rail usage in the developed world.
---