Invasive plants -- from pest to pesto
Foodies learn to sink their teeth into plants that are better known as weeds.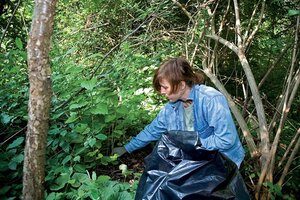 Photos by NEWSCOM/File
The garlic mustard plant is a pest to ecologists, but surprisingly, it also makes a great pesto.
The waist-high plant, a native of Europe, has overrun woodlands in many US states, crowding out native species. Naturalists across the country have spent decades fighting it – pulling it up, spraying it with herbicides, and even burning it with controlled fires.
Over the past few years, they've also tried a novel idea – eating it.
In April, the Richmond Land Trust in Vermont adopted the motto "If you can't beat 'em, eat 'em" to expand its group of weed-pulling volunteers along the Winooski River. Its goal was to attract foodies by teaching them about the culinary uses of garlic mustard and providing recipes featuring the pesky plant.
A chef at On the Rise Bakery in Richmond even featured garlic mustard dishes at a Sunday brunch.
"People like the idea of going out and foraging for wild foods, like mushrooms, and fiddlehead ferns, and berries," says Bradford Elliott, chairman of the trust. "We realized garlic mustard is something they don't realize they can add to their repertoire."
But that's changing as garlic mustard begins to show up on dinner tables nationwide. After all, it was brought to North America as a culinary herb.
In Minneapolis, the Eloise Butler Wildflower Garden and Bird Sanctuary started promoting garlic mustard's culinary uses last year by donating it to local restaurants. This year, the sanctuary  handed out garlic mustard recipes during organized weed-pulling events.
---