New Orleans in the forefront of a green building revolution
Hurricane Katrina provided New Orleans with the opportunity to be part of an environmental revolution and rebuild its houses, schools, and neighborhoods in a green, sustainable way.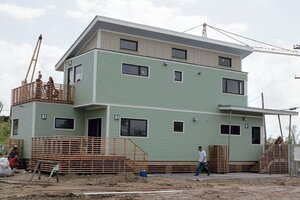 Photos by Judi Bottoni/AP/file
When hurricane Katrina blew into New Orleans four years ago, Matt Petersen watched in shock as the floodwaters retreated, revealing one of the most devastating natural disasters in US history: billions of dollars in damages, 80 percent of the city flooded with filthy water, and a government response that provoked a firestorm of criticism.
"I watched everything play out in horror," says Mr. Petersen. "And, like everyone else, I went through the process of thinking, 'What can I do?' "
Petersen donated money and considered volunteering, but that wasn't enough. "I kept feeling this well up inside me, I felt compelled to act," he says.
As the city's cleanup began, Petersen, the president and CEO of Global Green, an environmental nonprofit that promotes green building, saw a silver – or green – lining in Katrina's catastrophic wake.
"I began to think, 'Maybe I can do more.' I run an organization with big thinking behind it; it's a Red Cross for the environment. We have the greatest assemblage of green building expertise. How can we deploy that?" he says. "Certainly the city was going to be rebuilt. And this great city presented us with an opportunity to create the first truly green city in our nation."
So Petersen opened Global Green's first New Orleans office in March 2006.
---