Can the world act fast enough to save the disappearing tuna?
Scientists say drastic measures need to be taken to restore the bluefin.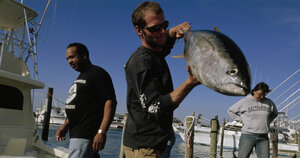 Tyrone Turner/National Geographic/Getty Images
Jonathan Mayhew, a third-generation fisherman from Martha's Vineyard, Mass., knows firsthand that a school of northern Atlantic bluefin tuna is a marvel to behold. A former spotter pilot, Mr. Mayhew used to routinely gaze down on schools of 60, 80, and sometimes 200 of these torpedo-shaped fish, each weighing many hundreds of pounds.
He also knows that schools of giant tuna are a rare sight these days.
"The stocks are not there," Mayhew says. "The biomass of bluefin that comes into the Gulf of Maine is either nonexistent, or it's going elsewhere."
Scientists concur. "Our giant fishery has disappeared," says Molly Lutcavage, director of the Large Pelagics Research Center at the University of New Hampshire, Durham. "The overfishing has gone on too long and it's finally taken down what was once a big fishery."
So far this year, fishermen have pulled in only 12 percent of the 1,533-ton US quota, the worst of several years of steeply declining catches. For US fishermen, the apparent collapse of a fishery once valued $19 million (it was valued at $3.3 million in 2006) is only the latest in a series of setbacks that make it tougher to make a living.
New information on just how far this migratory fish travels has scientists thinking that overfishing in the Mediterranean and eastern Atlantic may be depleting bluefin numbers closer to the US. Others think that, perhaps due to human-driven climate change, shifting conditions in the North Atlantic are further stressing already weakened stocks. Warning of collapse, many are calling for a moratorium on bluefin harvesting, both to allow stocks to rebound and to give scientists a chance to figure out what's happening.
---