More waters off California may be off limits to oil drilling
Congress is poised to expand two marine sanctuaries along the state's wild north coast.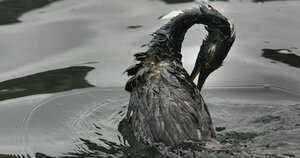 AP Photo/San Francisco Chronicle, Frederic Larson
A stretch of the Pacific Ocean off California's wild north coast seems poised to get permanent federal protection from oil exploration and other development, in recognition that the area lies within one of the four richest marine feeding grounds in the world.
The US Senate is expected this week to vote in favor of extending two marine sanctuaries to cover ocean waters off a 76-mile stretch of the Sonoma County and south Mendocino County coasts – a move that would be a major victory for California in its 50-year battle to restrict offshore oil drilling. The House of Representatives approved the measure April 1.
"After decades of struggle, the door has opened to the national significance of this region," says Richard Charter of the environmental group Defenders of Wildlife. He says 25 years of give and take by oil interests, environmentalists, and politicians have finally aligned, even as public interest in beach protection is rising.
---