A lab in Florida acts as a real-life CSI show ... for manatees
Martine de Wit leads a team of forensic pathologists that performs autopsies on the endangered creatures to determine their cause of death.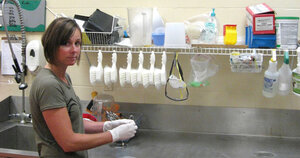 Richard Luscombe
Martine de Wit, wearing a rubber apron and antiseptic coveralls, leans over the latest victim in a crime lab here in the shadow of a Florida overpass. The body, officially tagged case number MSW0821, was found face down in a lake in southwestern Florida two days earlier.
Ms. de Wit and her team of forensic pathologists will spend the next several hours wielding scalpels and an intimate knowledge of biology to try to solve several mysteries: What was the cause of death? Was foul play involved? If so, they'll relay the information on to authorities for possible criminal prosecution.
In this case, though, the body isn't that of some drug kingpin or the target of a mob hit in Miami. It's a manatee, one of the beloved sea cows that roam the waters off Florida's coast. If CBS wanted to add another series to its ever-expanding line of forensic crime dramas, it would have to go no further than this whitewashed lab in St. Petersburg, Fla.
Call it "CSI: Manatee."
De Wit is the methodical leader of a young group of dedicated scientists – each one part forensic analyst, part sleuth. She is a combination of Horatio Caine and Alexx Woods of "CSI: Miami," minus the carrot-topped head or the high heels.
---