Humor helps a rare bird survive in Cambodia
Conservationists' gentle engagement with locals boosts the prospects for the Bengal Florican.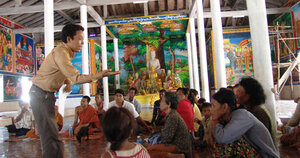 David Montero
For Sum Song Zoning, a community officer with the Wildlife Conservation Society (WCS) of Cambodia, the secret to conservation is a good sense of humor.
His audience: monks and farmers, housewives with screaming babies – each with a skeptical look that deepened as the morning heat rose. His subject: the Bengal Florican, an endangered bird few have ever heard of, let alone seen. His task: to convince the lean-looking villagers that, should they ever come across the bird, a hefty five-pounder, it is better to save it than to eat it.
By all accounts, he succeeded wonderfully. There were cheers as he took playful jabs at a monk and teased two bemused old ladies, using humor to impart the value of the bird. Diagrams and posters were marshaled to explain that, as much as they look alike, Bengal Florican eggs are not duck eggs and should be left alone. During the quiz at the end, the 30 or so participants raised their hands with gleeful eagerness, suggesting that, whether or not they ever saw the bird, they were ready to protect it.
"Ten years ago, people didn't understand the importance of the bird," says Zoning. "Now they understand that it's something special for Cambodia."
Village by village, and province by province, this simple interaction is helping to save the Bengal Florican, one of the world's rarest birds, by directly engaging the communities that dwell in the bird's habitat. And in so doing, this approach is presenting a unique model of community-based conservation, observers and participants say.
---