Interview: Jane Goodall embraces a broader mission
The noted primatologist has found that in order to save her beloved chimpanzees, she has to educate the people first.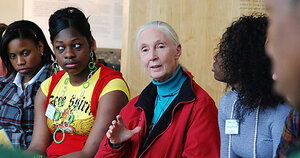 Tom A. Peter
Though Jane Goodall first attained international fame in the 1960s for her work with the chimpanzees of Gombe Stream National Park in Tanzania, today she spends more time promoting environmental causes than she does in the jungle.
She founded the Jane Goodall Institute in 1977 to help people make a positive difference for all living things. Concerned that youths were feeling overwhelmed by environmental challenges, she created Roots and Shoots in 1991, an environmental group for youths that now is active in almost 100 countries.
Reaching beyond the animal kingdom, she has assisted local communities in Africa with a program called TACARE, which works to empower locals to improve their lives through microcredit projects and education initiatives. Most recently, she forged a partnership with Green Mountain Coffee Roasters to protect chimpanzees in Gombe and support the local human community by producing ecofriendly coffee.
Dr. Goodall's work with humans, animals, and the environment prompted the United Nations to name her a Messenger of Peace in 2002.
A Monitor reporter caught up with her on her recent visit to the Boston neighborhood of Mattapan. Here are some excerpts:
How did you make the shift from studying a small group of chimpanzees to becoming a global environmental activist?
---