Florida woman runs a sanctuary for big cats
Judy Berens takes in abandoned leopards, panthers, and other exotic animals at a conservation center on her home property.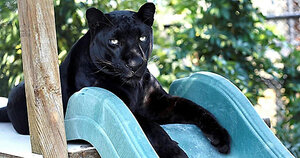 Courtesy of Judy Berens
When Judy Berens took a neglected ocelot into her home in 1993, she never actually planned on finding it a companion. But as author Ernest Hemingway, who once kept 57 felines, famously observed: "One cat leads to another."
Fifteen years after that first furry companion, Ms. Berens shares her 10-acre estate in Wellington, Fla., with a 23-strong menagerie that includes some of the world's most endangered species. Incongruous as their habitat may seem – Wellington is classic equestrian country, noted for its polo clubs, horse shows, and smart stables – the leopards, jaguars, caracals, panthers, ocelots, servals, bobcats, and cheetahs who reside here do so in quarters that are much different from their former homes.
Some, like jaguars Aztec and Zeus, are castoffs from circuses and entertainment acts; others are former pets, like Cody the ocelot, who simply outlasted their owners' love for them. Duma the serval was dumped and abandoned outside a reptile shop, Pei the clouded leopard was rescued from the Audubon Zoo in New Orleans after hurricane Katrina.
Over the past decade, Berens has created a sort of modern Noah's Ark for abused or neglected animals. While some critics fault her for turning her backyard into a personal zoo, Berens sees herself as a providing sanctuary for felines that no one else often wants.
---