Bolivia gets clean by staying green
Project pays Bolivia for the forests it does not cut - a potential model in the battle against climate change.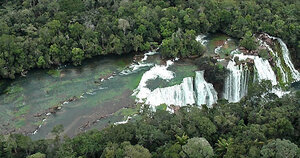 Sara Miller Llana
Noel Kempff Mercado National Park, Bolivia
From the air, this 3.7-million-acre national park in northeastern Bolivia seems a vast carpet of lush timberland, cloaking jaguars, howler monkeys, and giant anteaters beneath. Outside the tiny window of a three-seat plane, the terrain rises from rainforest to flooded savannah. There is not a person in sight.
But in the distance is a trail of lighter, younger canopy the width of a road, a remnant from when logging paths carved this forest into pieces. That was before The Nature Conser­vancy, its Bolivian partner Fundación Amigos de la Naturaleza (FAN), the Bolivian government, and three international energy companies devised a plan to protect 1.5 million acres threatened with deforestation and degradation. The idea was simple: This national park in the Amazon basin, perhaps the inspiration for Sir Arthur Conan Doyle's "The Lost World," would do its part to fight climate change.
It is perhaps the best current example of how poor countries and rich countries can come together in the fight against climate change. It is a model of research and monitoring; it's a lesson in the benefit of involving the central government; and it's a cautionary tale about the need to include the local community as a full partner.
The Noel Kempff Climate Action Project is a prime global case study. As negotiators work this week and next in Bonn to craft a new climate agreement to take effect in 2013, a consensus has emerged on the crucial role forest protection plays in re­ducing greenhouse-gas emissions, and en­­vironmentalists are looking at an international carbon-trading model as an incentive to save forests. It is called REDD: Reducing Emissions from Deforestation and Forest Degradation.
Now countries are looking to devise two-year pilot projects, in which rich nations pay poorer ones to conserve their forests. Not everyone agrees this mechanism is valid, mainly because its track record is so short.
---