Game-changer in the Everglades
Large land sale throws ecosystem-restoration plans cheerfully upside down.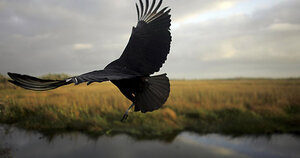 Joe Raedle/Getty Images/File
Going back to the drawing board can seem like an exercise in frustration.
But people working to restore Florida's legendary Everglades – by many accounts one of the most ambitious ecological overhauls ever attempted – are headed to the drafting table with extra spring in their steps. Last week, the US Sugar Corp. and the state of Florida announced that they had agreed to a statement of principles that would shut down the sugar company's operation. In exchange, the state will buy the company's nearly 188,000 acres of land, as well as its equipment, rail lines, and sugar mills. Negotiations over the $1.75 billion sale are expected to conclude by September.
US Sugar's holdings cradle much of the eastern and southern shores of Lake Okeechobee and are expected to play an important role in the restoration project.
"I've been working on Everglades restoration for a lot of years; this is really a quantum leap forward," says Kimberly Taplin, the senior US Army Corps of Engineers official working with the South Florida Water Management District on the project. "The opportunities and possibilities this opens up for us are huge."
---