Rhode Island's tropical visitors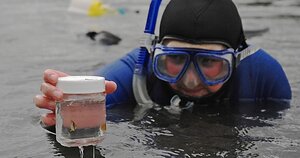 Sarah Beth Glicksteen/The Christian Science Monitor
From July through September, scuba divers and snorkelers converge in the parking lot at the Fort Wetherill State Park to explore the underwater world. But some are here for a rather unexpected reason: the tropical fish.
For years, scientists and avid divers have come to this rocky cove in Jamestown, R.I., to try to catch a glimpse of spotfin butterflyfish, snowy groupers, and other tropical varieties carried north from Florida and the Caribbean by the Gulf Stream.
"It's not a new phenomenon," says David Beutel, a Sea Grant fisheries extension specialist at the University of Rhode Island, Kingston (URI), but people who are used to seeing only native fish like cunner and striped bass may be surprised. "I don't think the average person would know," Mr. Beutel says.
During the summer, storms create warm-water eddies that split off from the Gulf Stream, carrying millions of eggs or thumbnail-size young tropical fish on a 1,500 to 2,000-mile journey up the Atlantic coast as far as Buzzards Bay, Mass.
Jeremy Collie, a professor of oceanography at the University of Rhode Island's Graduate School of Oceanography, has been studying these pilgrim fish since 1993, when he arrived at URI.
---