Whales, Navy clash at high court
The justices will consider whether the Navy must heed restrictions on use of sonar off California.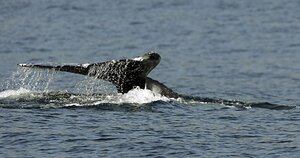 Reed Saxon/AP/file
Call this story "save the whales" meets "The Hunt for Red October."
On Wednesday, the US Supreme Court wades into a dispute between the US Navy and a group of conservationists over the use of mid-frequency active (MFA) sonar during large-scale naval training exercises off the southern coast of California.
MFA sonars send pulses of loud noise through the water with such intensity that it can disrupt or injure marine mammals nearby. In some instances, scientists say, it can trigger fatal mass strandings.
The case doesn't simply pit the environment against national security. It is also a major clash over power – the power of judges to order environmental compliance versus the power of the president and the executive branch to defend the nation. But at its most basic, the case is about whales and warfare.
California's coastal waters are among the richest and most biologically diverse in the world. The region features 37 species of marine mammals, including endangered blue whales, pygmy sperm whales, beaked whales, and bottle­nose dolphins.
The offshore area is also an important training ground for the US Navy. It is the only place on the West Coast offering all the land, air, and seafloor features needed to train US air, sea, and undersea forces simultaneously in an integrated operation.
---