Can 'electric oysters' restore New York's waters?
Experiment aims to reestablish bivalves staggered by pollution, overharvesting, and disease.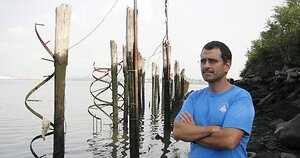 Moises Velasquez-Manoff
James Cervino, a professor of marine biology at Pace University in New York City, thinks a little electricity could go a long way in helping oysters return to the city's waterways.
On a recent morning in College Point, Queens, just a few blocks from where he grew up, Professor Cervino shows a visitor what he calls "the electric oyster reef project." He's installed a series of spiral-shaped bands of metal in the shallow water. At low tide, they jut from the water like giant strands of DNA.
"I had a dream one night of helixes coming out of the water," he says. In retrospect, the shape "is actually not such a great idea." But the concept, he says, is.
Solar panels perched atop poles provide the helixes with a low voltage. The current causes a chemical reaction in seawater, and limestone builds up on the electrified metal. The ready supply of shell-building minerals, Cervino says, will help the oysters, decimated here and elsewhere by overharvesting, pollution, and disease. Cervino's collaborator, Thomas Goreau, president of the Global Coral Reef Alliance, has shown that electrification can help damaged coral reefs regenerate. It seems to be helping the oysters here as well, he says. Oysters in mesh sacks at the spirals' base are alive while control oysters – those farther from the electric field – have all died.
---