Supreme Court lifts limits on Navy sonar near whales
The justices said restrictions off the coast of southern California jeopardized national security.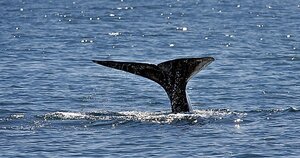 NEWSCOM
The US Supreme Court has invalidated two court-imposed restrictions aimed at protecting whales and other marine mammals from powerful Navy sonars during anti-submarine warfare training off the southern California coast.
In a 6-3 ruling on Wednesday, the high court criticized a federal judge in California for imposing restrictions that the majority justices said jeopardized national security in an effort to protect the environment.
"We do not discount the importance of plaintiffs' ecological, scientific, and recreational interests in marine mammals," Chief Justice John Roberts wrote for the majority. "Those interests, however, are plainly outweighed by the Navy's need to conduct realistic training exercises to ensure that it is able to neutralize the threat posed by enemy submarines."
The case, Winter v. Natural Resources Defense Council, involved a dispute between the Navy and a group of conservationists over the use of mid-frequency active (MFA) sonar during large-scale naval training exercises.
MFA sonars send intense pulses of noise through the water that can disrupt or injure marine mammals nearby. Scientists say it can trigger fatal mass strandings under certain circumstances.
In March 2007, the NRDC and five other environmental groups filed a lawsuit seeking to force the Navy to be more careful when using MFA sonar during 11 planned training exercises. They said the Navy had failed to properly complete an environmental impact study (EIS).
---