How air imperils the sea
Rising levels of carbon dioxide make oceans more acidic, putting shellfish, corals, and more at risk.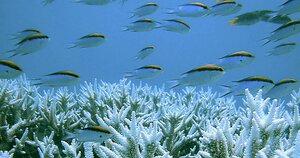 Reuters/File
If the rising level of carbon dioxide in the earth's atmosphere is a slowly ticking time bomb, some scientists say, the CO2 building in seawater is a depth charge about to explode.
The world's oceans are growing more acidic at an increasing – and some say alarming – rate. More and more environmentalists and scientists are saying it may take a severe lowering of CO2 levels to keep ocean life from facing major disruptions, including possible mass extinctions of species.
Seawater absorbs carbon dioxide from the air. But the huge amounts oceans have taken in since the Industrial Revolution began 250 years ago are beginning to make it more acidic.
That, in turn, is beginning to stress aquatic life. The species most at risk are those that use calcium carbonate to form protective shells or other coverings – corals, lobsters, oysters, crabs, mussels, and snails. These species find it more difficult to construct their calcium crusts in more acidic waters.
Other less visible, but equally important, species could be affected, too. Tiny creatures called pteropods, whose shells also are made from calcium carbonate, serve as food for larger species that are caught and consumed by humans. The consequences if pteropods diminish or die out could be dramatic.
Seawater already has dropped in pH, the measure of acidity, by a notable amount in the last couple of centuries, researchers say. And the pace of change is quickening: pH could drop significantly more in coming decades, they warn.
If humans continue to release carbon in the way that we have, "we will be looking at a massive extinction of corals in this century," says Jacqueline Savitz, a marine biologist and coauthor of a study on ocean acidification released last week by Oceana, an ocean advocacy group.
---