In Atlanta, an expanded botanical mission
The Atlanta Botanical Garden is among the public gardens working to ensure the survival of threatened and endangered plants.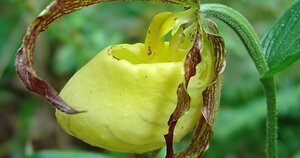 Courtesy of the Atlanta Botanical Garden
Jenny Cruse-Sanders had just returned from a week of trekking through the Florida Panhandle in search of Torreya taxifolia, a scraggly conifer that looks like a Christmas tree and smells sort of like tomatoes.
The tree exists only in that northern sliver of Florida, which butts right up to the Georgia border. Botanists in the area noticed after World War II that the torreya was dying off. Within another 15 years, reproductive-age adult trees were entirely gone – all because of a disease experts are still struggling to identify 40 years later.
Ms. Cruse-Sanders, the director of research and conservation at the Atlanta Botanical Garden, was looking for the trees along with a group of plant pathologists from the University of Florida. What they found were decades-old torreyas that were only a few feet tall. They weren't reproducing in the wild, so Cruse-Sanders took clippings, enclosed them in moss and plastic wrap, and brought them back to Atlanta to try to get them to reproduce.
If the disease is ever identified – an undertaking that requires the coordination of plant doctors, soil experts, land managers and conservationists – Cruse-Sanders' new trees could be reintroduced into the Panhandle.
"I ask people this question – and it's not an obvious question – 'Why put these resources into one tree?' " Cruse-Sanders says. "I think it's part of the puzzle. If you were to ask me what is important about torreya, I would say, 'Tell me a species you're willing to give up.' "
---
Subscribe to Recharge
Get the Monitor stories you care about delivered to your inbox.