Bush orders new protections for Pacific marine seascapes
Together with earlier moves, 355,000 square miles of islands, reefs, and atolls now have new safeguards.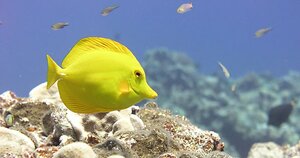 Robert Schroeder/Pacific Islands Fisheries Science Center/NOAA
A century after Teddy Roosevelt started preserving landmarks and landscapes as national monuments, President Bush has swept nearly 200,000 square miles of seascapes into three new national marine monuments around US Pacific territories.
The much-anticipated action this week follows a similar move two years ago along the northwest Hawaiian islands. Taken together, the two efforts extend tough environmental safeguards to 355,000 square miles of islands, reefs, atolls, and their surrounding waters. Those included in the latest announcement represent some of the most remote, pristine reef systems in the world.
The response from several environmental groups, long critical of the administration on a range of other issues, has been swift and effusive.
"The president has given the Earth a Texas-size gift," says Diane Regas, who heads the oceans program for the Environmental Defense Fund in New York. Tuesday's action "opens a new era in ocean protection."
Others say they see the move as elevating marine conservation to a level of prominence long dominated by efforts to preserve land-based ecosystems.
The areas receiving the monument designation include:
---
Subscribe to Recharge
Get the Monitor stories you care about delivered to your inbox.