As beetle invasion rages, a debate over logs
Home builders want the dead trees, but activists and regulations stand in the way.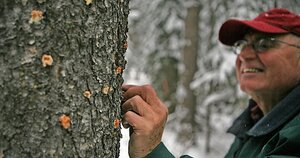 Melanie Stetson Freeman / Staff
Tromping through a snowy thicket of lodgepole pine, forester Tim Love identifies the telltale signs that the trees are, in his words, "dead already but don't know it."
He points to a trunk riddled with pitch-outs – ejections of sap sent out by the tree trying desperately to dislodge the bark beetles that are killing it. The branches are covered in rust-colored needles that have faded from their original healthy green as the beetle attack cuts off the tree's food and water. These are the visible scars of massive beetle destruction that now stretches from Colorado to British Columbia.
Soon, wind will likely finish off the pockmarked lodgepoles, sending them crashing to the forest floor, says Mr. Love, a district ranger in the Lolo National Forest in Montana. That's a fire hazard headache for the forest service – and, some say, a missed opportunity.
In the nearby Bitterroot Valley, a nationally renowned cluster of log-cabin builders ply their trade. Dead, standing lodgepole pines killed off by beetles make ideal logs for cabins. But instead of using the nearby trees to boost the economy and mitigate fire risks, these companies are hauling timber in from Canada instead.
---