'Ark' races to rescue jungle frogs
As lethal fungus spreads, captive amphibians are bred for eventual return to the wild.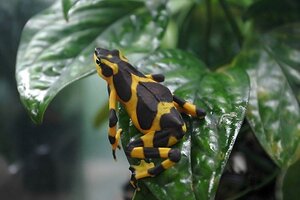 Josephine Hearn
Biologist Edgardo Griffith is ready to find frogs. He has his rubber boots, his plastic bags, his camera, and an intimidating metal hook to turn over rocks and prod logs. But after an hour searching this scenic stream in the cloud forest, he has yet to find a single one.
"Five years ago, if we had come to this stream we would have seen the whole bottom moving just [from] the amount of tadpoles. Now we can't see any," he sighs, ankle deep in the currents.
Conservationists predict that in 10 years, every highland stream in Panama will resemble this one, all but devoid of frogs. For now, they see little that can be done about it.
Scientists say that a deadly fungus is moving through mountain streams here and elsewhere, killing as many as 8 out of 10 frogs and extinguishing some species entirely. The enemy is a fungus known as chytrid (KIH-trid) or by its scientific name, Batrachochytrium dendrobatidis. Mr. Griffith and others are trying to stay ahead of the plague by plucking animals from the wild and placing them in captive breeding centers. This effort and similar ones around the world have been dubbed the Amphibian Ark.
In Panama, space for the captured frogs is filling up. Griffith and his wife, Heidi Ross, opened the El Valle Amphibian Conservation Center in western Panama in 2006 with help from the Houston Zoo. They house more than 600 frogs and expect to complete another wing in March. Plans are under way for a second amphibian
conservation center at the Summit Municipal Park in Panama City, which will shelter species from eastern Panama as chytrid cuts a lethal path through that region.
---