Standing up for Congo's rare mountain gorillas
While dodging bullets and spears of poachers and rebels, Virunga National Park ranger Innocent Mburanumwe can put a 700-pound gorilla at ease with a few strategic grunts.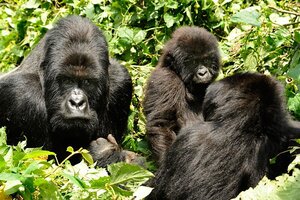 Photos by Mary Knox Merrill/The Christian Science Monitor
Virunga National Park, Democratic Republic of Congo
Deep in the jungles of Congo – half a day's hike through knee-high tangles of roots seemingly designed to send humans tumbling to the rotting earth – park ranger Innocent Mburanumwe answers the grunt of a suspicious silverback gorilla.
Humba, the 700-pound leader of a family of 11 mountain gorillas, must quickly discern whether a group of five human intruders is harmless or should be attacked. He darts up on powerful legs, shoulder muscles rippling under a thick salt-and-pepper coat as he cranes his neck for a better view. Satisfied, Humba sinks back to his favorite position: sprawled on a nest of green, his pale chest facing the dark canopy above.
But seconds later, an anxious juvenile gorilla careens in from the other direction. Mr. Mburanumwe's calm presence and pitch-perfect rolling grunts save clueless visitors from being mauled.
"If you look them in the eyes, they think you're challenging them," Mburanumwe whispers. With a side smile and a nod he signals to his group, now within a gorilla's arm's reach, to calmly kneel. "And remember: Don't point at them!"
But protecting the few foreigners daring – or foolish – enough to visit Congo's war-torn Virunga National Park is the least of Mburanumwe's worries.
He's far more concerned about the warring militias, armed poachers, and charcoal traders that make Virunga the most dangerous national park in the world. Congo's complex and ever-shifting conflict has killed more than 5 million people in the past 10 years, and Virunga lies on one of the war's seismic fault lines. Militias hide out in the park's dense foliage, looting nearby villages, pillaging gold mines, and controlling the multimillion-dollar trade in charcoal made by peasants who chop down virgin forest in the park.
---