Earth Talk: Orangutans' homes in the trees are threatened
Deforestation destroys the habitat of the largest animal to live primarily in trees.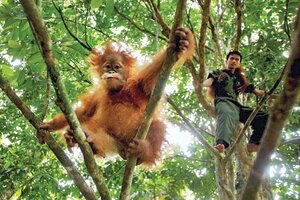 Binsar Bakkara/AP
Q: Aren't orangutans seriously threatened by the cutting down of forests?
– Nick Chermayeff, Greenwich, Conn.
A: Deforestation is indeed the primary threat to the orangutan, a species of great ape known for its keen intelligence and the fact that it's the largest animal to live primarily in trees. A 2007 assessment by the United Nations Environment Program predicts that orangutans will be virtually eliminated in the wild within two decades if current deforestation trends continue.
The great reddish-brown apes are native to the tropical rain forests of Indonesia and Malaysia, which are being cut down rapidly (and in many cases illegally) to make way for agriculture and other development.
The International Union for the Conservation of Nature classifies the Bornean subspecies of orangutan as endangered and the Sumatran subspecies as critically endangered. The Orangutan Conservancy estimates that 54,000 Bornean orangutans and only 6,600 Sumatran orangutans remain in the wild. Since it's rare for adult orangutans to ever touch the ground, forest degradation and clearing are the main drivers of the species' population decline.
---