When nature gets a second chance
Degraded landscapes can be returned to natural beauty and usefulness.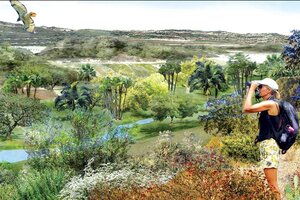 GREAT PARK DESIGN STUDIO/RENDERING
Nearly two decades ago, Steven Handel was asked to help breathe new life into a former landfill in Kearny, N.J. The barren tract – bounded by highways, salt marshes, and railroad yards – had been closed and covered for 20 years. But it was an ecological desert, supporting no birds or mammals and home to only two plant species, both of which were alien to northern New Jersey.
After studying the site, its history, and the native flora and fauna of the area, the Rutgers University professor and his team of graduate students began installing groups of native trees in hopes of creating a dynamic, healthy ecosystem on top of the old landfill.
The addition of soil and smaller plants came later. As time passed, researchers studied the changes at the site. Among their observations: Fruiting trees and shrubs attracted birds, which then dispersed seeds over the area. The original plantings matured, and the number of species on the site increased. It had once again become a viable ecosystem.
The Kearny experiment led to an even larger project at the former Fresh Kills landfill in Staten Island, N.Y. It also launched Dr. Handel on a succession of far-flung restoration projects, which, in turn, advanced the young discipline of urban restoration ecology.
Now, it's a discipline whose time has come, Handel says. As the world becomes more urbanized, people have become increasingly estranged from nature.
---