Researchers find rare bird in Fiji
Photos reveal the first sighting of the elusive seabird, the Fiji petrel.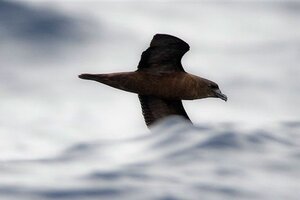 BirdLife International/AP
A group of researchers in Fiji has captured images of an endangered and elusive seabird, the first confirmed sighting of the chocolate-colored creature at sea.
Scientists photographed the Fiji petrel soaring above the ocean about 25 miles (40 kilometers) south of Fiji's remote island of Gau in May, according to the Britain.-based conservation group BirdLife International, which helped fund the expedition. The researchers' findings were described in a paper published in this week's Bulletin of the British Ornithologists' Club.
"Finding this bird and capturing such images was a fantastic and exhilarating experience," the paper's lead author, Hadoram Shirihai, said in a statement.
The bird is listed as critically endangered by the International Union for Conservation of Nature, the producer of the world's Red List of endangered animals.
The first Fiji petrel specimen was collected in 1855 on Gau, and a second not until 1984. Since then, there have been a handful of reports of birds crashing into houses on Gau, but no one had ever positively identified one at sea, the researchers said.
---