World's first shark sanctuary set to open in Palau
The tiny Pacific nation is fighting to protect more than 130 species fighting extinction in the Pacific Ocean.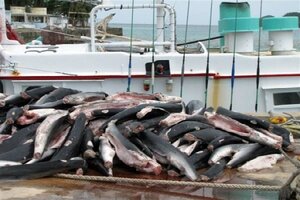 Micronesian Shark Foundation/AP
The tiny Pacific nation of Palau is creating the world's first shark sanctuary, a biological hotspot to protect great hammerheads, leopard sharks, oceanic whitetip sharks, and more than 130 other species fighting extinction in the Pacific Ocean. But with only one boat to patrol 240,000 square miles of Palau's newly protected waters — including its exclusive economic zone, or EEZ, that extends 200 miles from its coastline — enforcement of the new measure could be almost like swimming against the tide.
Palau's president, who is set to announce the news to the United Nations General Assembly on Friday, acknowledges the difficulty of patrolling ocean waters nearly the size of Texas or France with a single boat. But he hopes others will respect Palauan territorial waters — and that the shark haven inspires more such conservation efforts globally.
"Palau will declare its territorial waters and extended economic zone to be the first officially recognized sanctuary for sharks," Palauan President Johnson Toribiong told the Associated Press in an interview Thursday.
Shark fishing has grown rapidly since the mid-1980s, driven by a rising demand — mainly in China — for shark fin soup, a highly prized symbol of wealth. Because of their long life spans and low fertility rates, sharks are vulnerable to overfishing.
---