Peacocks become a colorful problem in Florida
Some Florida neighborhoods are overrun with peacocks, but not all agree that the colorful birds should be removed.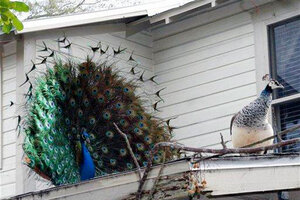 Tamara Lush/AP
Kip O'Neill worried that peacocks would ruin her family's Christmas.
Her Gulf coast neighborhood is overrun with them: large, regal, noisy, messy birds. Some mornings, Ms. O'Neill finds 30 of them on her roof.
They squawk. They invade yards. They damage cars.
O'Neill said the pesky fowl have pecked her Lexus so much it had to be repainted — twice.
"They poop all in my pool and on my porch," O'Neill said, as two birds wandered onto her front lawn. "They are so destructive and noisy."
The Longboat Key flock, at least 80 birds strong, attacks dark-colored cars because they see their reflection and think it's another bird.
Because of repeated complaints from people like O'Neill, officials on this Florida island have started trapping and moving the colorful birds. They're planning another roundup in the next month to cull the population.
On a recent day, about two dozen peafowl — that's the word for both male and female birds — lazed in a driveway and on a fence of a large home. One male bird displayed his plumage in the sun atop a roof.
"I don't hate the birds, but I know 80 is too many for a tiny village," said Michael Drake, president of the homeowners' association on the section of Longboat Key that is plagued by the peacocks. There are about 200 homes on that part of the island.
Mr. Drake was the one to push for the removal. He describes in great detail how he lays out corn for the birds over the course of a few weeks so they "get to know" him. Then, one day, he throws the corn in his garage so he can trap the birds inside until a critter control company can come to pick them up. The neighborhood association gets reimbursed by local governments for the expense.
---