Chile earthquake aftershock hits as new president takes over
The term of newly inaugurated Sebastian Pinera literally began with a jolt, as a Chile earthquake aftershock shook his swearing-in and the Navy issued a tsunami alert.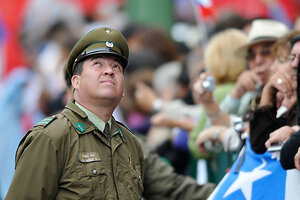 Jorge Sanchez/AP
A series of strong aftershocks from last month's devastating quake rocked Chile on Thursday as a new president was sworn into office and immediately urged coastal residents to move to higher ground in case of a tsunami.
The strongest aftershock, with a magnitude of 6.9, was nearly as strong as the quake that devastated Haiti's capital on Jan. 12. There were no immediate reports of damages or injuries.
The Chilean Navy issued a tsunami warning while the U.S. Pacific Tsunami Warning Center said the aftershocks were too small to cause dangerous waves beyond Chile's central coast.
President Sebastian Pinera was inaugurated at a congressional building in coastal Valparaiso before the building was evacuated as a precaution. The seven aftershocks strongly swayed buildings, shook windows and sent frightened Chileans streaming into the street.
---