Early Iraq Election results indicate win for Prime Minister Maliki
Early election results show Prime Minister Maliki leading in the Iraq election.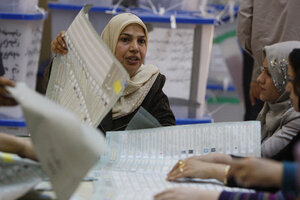 NEWSCOM
Early results from Iraq's key election began coming in Thursday, showing a coalition led by the Prime Minister Nuri al Maliki ahead in two southern Shiite provinces where he was opposed by hard-line religious parties with close ties to Iran.
The results were the first to be officially released by the Independent High Electoral Commission since Sunday's balloting, and Iraqis continued to wait for results from the country's other 16 provinces.
The early results only reflect about one third of the votes cast in the two provinces in Iraq's Shiite-dominated south.
Still, they foreshadow an Maliki victory in an area where he was opposed by hard-line religious Shiite political leaders who have close ties to Iran.
In an effort to cast himself as an inclusive leader for all Iraqis, al-Maliki quit the main Shiite coalition last year to create the State of Law alliance, which includes some Sunni groups.
---