Tiger Woods to play at the Masters?
Sources tell the Associated Press that Tiger Woods is likely to play at the Masters in Augusta.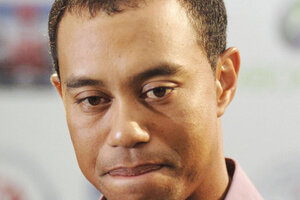 NEWSCOM
Tiger Woods intends to remain out of golf at least until the Masters, two people with knowledge of his plans told The Associated Press on Thursday.
Woods has been practicing at Isleworth near his Orlando home the last two weeks, and swing coach Hank Haney flew there during the weekend to work with him. That led to speculation Thursday he was close to playing again.
The two people, who spoke on condition of anonymity because only Woods is supposed to release such information, say he is likely to play first at Augusta National in April.
Woods twice has gone nine weeks without competing before showing up at a major. The first time was in 2006, when he didn't play after the Masters while coping with his father's death, then missed the cut in a major for the first time in the U.S. Open at Winged Foot. Two years ago, he was out with knee surgery until winning the U.S. Open at Torrey Pines on a shattered left knee.
---