Behind 'The Pacific' -- Hanks, Spielberg discuss HBO miniseries
'The Pacific,' HBO's 10-part, $195 million miniseries debuts tonight.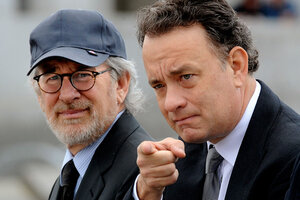 NEWSCOM
Tom Hanks and Steven Spielberg swapped other people's war stories to groundbreaking, heartbreaking effect in "Saving Private Ryan" and "Band of Brothers."
The unsparing and visceral depiction of battle in their World War II collaborations is revisited by "The Pacific," a 10-part, $195 million miniseries debuting Sunday at 9 p.m. EST on HBO. Also intact is their celebration of the American veteran.
But "The Pacific" carves its own path across a lesser-known theater of war with parallels to current conflicts. It also breaks the "Band of Brothers" mold by following its battered Marines home with a coda reminiscent of the classic World War II film, "The Best Years of Our Lives."
IN PICTURES: Scenes from the World War II Memorial in Washington, DC
The challenge "was to take human beings and put them through hell and wonder how in the world they would approach the world when they came back," Hanks said.
"Part 10 is the first time we went for it," he said.
The new HBO miniseries was born of its predecessor, 2001's acclaimed, Emmy-winning "Band of Brothers," which dramatized the true story of a company of paratroopers fighting in Europe.
---