Baby slings can be dangerous says US government
The Consumer Product Safety Commission said baby slings can be dangerous.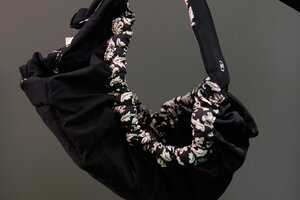 Gerald Herbert/AP
The government warned Friday that those chic baby slings that hip moms and dads are sporting these days can be dangerous, even deadly for their little ones.
The Consumer Product Safety Commission said it has investigated at least 13 deaths associated with sling-style infant carriers over the last 20 years, including three deaths last year. One other case involving a fatality is still being investigated. Twelve of the deaths involved babies younger than four months of age, the agency said.
The commission is advising parents and caregivers to be cautious when using infant slings for babies younger than four months. It said that many of the babies who died in slings were a low birth weight twin, were born prematurely, or had a cold.
In its warning, CPSC said that slings can pose a suffocation hazard in two different ways.
—A sling's fabric can press against a baby's nose and mouth, blocking the baby's breathing and suffocating a baby within a minute or two, the agency said.
—The other scenario involves slings where the baby is cradled in a curved or "C-like" position, nestling the baby below mom's chest or near her belly. That curved position can cause a baby who doesn't have strong neck control to flop its head forward, chin-to-chest, restricting the infant's ability to breathe. "The baby will not be able to cry for help and can slowly suffocate," warned the commission.
The CPSC specializes in product safety, and often negotiates agreements with manufacturers for recalls, when necessary. It's a part of the executive branch's regulatory arm, charged with watching over its area of concentration in much the same way as similar agencies like the Food and Drug Administration and the Agriculture Department's Food Safety and Inspection Service.
---