French elections: Can Socialist Party gain more ground on Sarkozy?
With a first-place showing over President Nicolas Sarkozy in Sunday's first round of regional French elections, France's Socialist Party is building alliances in preparation for next Sunday's runoff - and the national elections two years from now.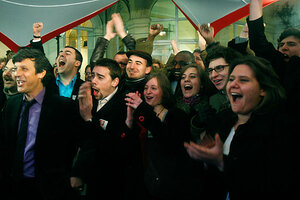 Michel Euler/AP
Fresh with a first-place showing in round one of regional elections over President Nicolas Sarkozy's governing UMP party, France's Socialists now have a week of deal-making with rival leftist parties to try to secure dominance in the upcoming runoff – and two years to transform its regional success into victory in the 2012 presidential vote.
The Socialists refrained from trumpeting their success in Sunday's vote. After all, the Socialists trounced the conservatives in the 2004 regional vote, only to lose the 2007 presidential election three years later after a bitter battle within the party to nominate their own candidate.
Final figures released by the Interior Ministry early Monday morning showed the Socialist-led left with 53.5 percent with the UMP-led conservatives at 39.9 percent amid record abstention.
[Ali Soumaré, a Muslim candidate with a criminal record, profiled here, won in his district Sunday]
Although widely seen as a referendum on Sarkozy's 34 months in power, 53 percent stayed away from the polls. That is much higher than in 2004, when abstention was 39 percent on the first round.
Xavier Bertrand, the pugnacious general secretary of Sarkozy's UMP, warned the left not to engage in "triumphalism."
"There is a new election that is starting tonight," he said as results poured in Sunday. Like other conservatives, Bertrand said the low turnout meant the vote did not represent his party's true power.
---