Toyota Motor Corp. doesn't buy runaway Toyota Prius story
Toyota officials on Monday said they couldn't find any evidence to support the "runaway" Toyota Prius story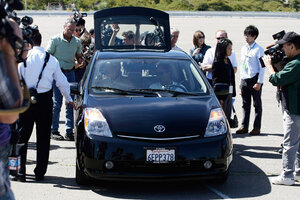 NEWSCOM
Toyota Motor Corp said on Monday it had found no evidence to support the driver's account of a widely publicized "runaway" Prius incident in California.
The report had threatened to overshadow Toyota's attempts to restart sales after a punishing series of recalls.
U.S. safety investigators said separately that they had yet to pinpoint any evidence to support or disprove the claim that a 2008 Prius sped out of control near San Diego a week ago.
National Highway Traffic Safety Administration engineers drove the hybrid in an effort to recreate the episode reported by the driver, James Sikes, but were unable to do so, the agency said in its first statement on a hurried and high-profile analysis.
"We would caution people that our work continues and that we may never know exactly what happened with this car," NHTSA said.
Sikes, 61, had reported in a call to emergency telephone operators that his Prius was racing out of control for some 20 minutes before he could slow down the vehicle and bring it to a safe stop with coaching from a California Highway Patrol officer who pulled alongside him.
---