Tropical Cyclone Tomas batters Fiji
Tropical Cyclone Tomas slammed into island groups of Fiji's northern coast on Monday.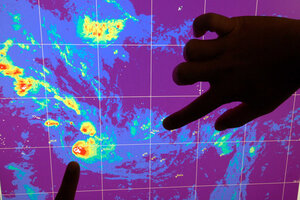 NEWSCOM/ FILE PHOTO
Tropical Cyclone Tomas battered island groups off Fiji's northern coast Monday, causing flooding, pounding seas and one death, but officials said the storm likely would only sideswipe the main islands of the South Pacific nation.
Some 6,000 residents fled to cyclone shelters ahead of the storm, which was already battering the Lau and Lomaiviti island groups, National Disaster Management Office director Pajiliai Dobui said. Power has been disrupted, roofs torn off by the winds and heavy rain was falling. A curfew was in place to minimize injuries.
A 31-year-old woman was swept away by strong ocean currents in northern Vanua Levu's Cakaudrove province late Friday after she saved her two children from a storm surge, police spokeswoman Atunaisa Sokomuri said. The woman had ignored warnings to stay away from the sea, she said.
RELATED: US hurricane season forecast: how many storms to touch land?
Cyclone Tomas packed winds of up to 130 miles (205 kilometers) per hour at its center, with gusts of up to 175 mph (280 kph), Dobui said. The Category 4 storm was the same strength as Fiji's devastating Hurricane Bebe in 1972, which caused widespread damage and claimed 180 lives.
---