Federal judge orders Oprah Winfrey to court
A federal judge says Oprah Winfrey must defend a defamation suit filed by the former headmistress of her girls' school in South Africa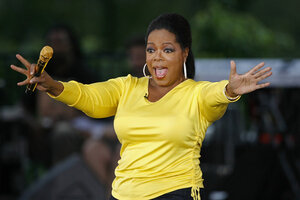 NEWSCOM
Talk show host and media magnate Oprah Winfrey is expected to spend two weeks defending herself at trial in a defamation case linked to the sex-abuse scandal at her girls school in South Africa.
A federal judge this week refused to dismiss the suit filed by Winfrey's ex-headmistress, paving the way for a March 29 trial in Philadelphia.
The billionaire talk show host, as a named defendant, must be in court and has rearranged her TV production schedule to do so, her lawyers said in a recent court filing. She also appears likely to be called as a witness.
After the abuse complaints surfaced in 2007, Winfrey said she had "lost confidence" in headmistress Nomvuyo Mzamane and was "cleaning house from top to bottom."
A dormitory matron who worked under Mzamane was later charged in South Africa with abusing six students.
The judge found that Winfrey made both Mzamane and the dormitory parents appear "culpable" by telling parents, "I'm going to find a new head of the academy for the school. ... Dorm parents are gone, (Mzamane) is gone."
The statement suggests Mzamane had a role in the mistreatment of the students, "which clearly would tend to 'blacken' plaintiff's reputation or injure her in her profession," U.S. District Judge Eduardo Robreno wrote in a 128-page opinion issued Monday.
---