Obama has tense conversation with FOX News over health care bill
President Obama chided FOX News anchor many times for cutting him off while they discussed the president's health care bill.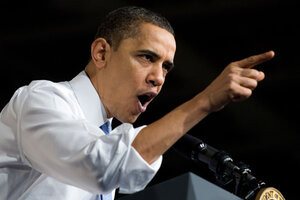 NEWSCOM/FILE
President Barack Obama on Wednesday took to the Fox News Channel, derided by his White House as a wing of the Republican Party, to sell his embattled health care overhaul in an interview punctuated with interruptions from the host and chiding from the guest.
Obama sat down with "Special Report" anchor Bret Baier in the executive mansion's Blue Room to talk about a health care plan that is inching toward final passage. Several times Obama chided Baier for breaking into his lengthy answers with follow-up questions.
"Bret, you've got to let me finish my answers," Obama told Baier, the news channel's White House correspondent during the Bush administration.
"Sir," Baier responded, "I know you don't like to filibuster, but ..."
"Well," Obama said in cutting him off again, "I'm trying to answer your question and you keep on interrupting."
The tone was set early. Baier first asked about the latest efforts in the House to pass the bill, which elicited Obama's standard talking points about the benefits of the overhaul effort. Baier tried to bring Obama back to the question.
"Bret, let me finish," Obama said.
An unhappy Obama completed his answer, repeating his familiar reasons why lawmakers should pass legislation that would deliver the White House a victory on its top domestic priority during an election year when Democrats face tough prospects.
---